Today I'm joining Shell and pouring my heart out..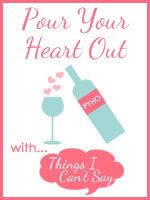 In 9 days my hubby and I will celebrate out 11 yr wedding anniversary.
I think saying we hit a rut would be an understatement, I would say more like we hit a dang wall.
Our 'love life' is as stale as a can of soda left open in the fridge for a week.
Our lives have just gotten so busy that we forget the little things.
I very often feel overwhelmed and feel like I've become a single parent because he's not home almost 5 nights a week. I come home and have to put the dishes away from the day before, do the dishes from that day, cook dinner, give my son a bath, feed him dinner and after working ALL day I'm exhaused and become short with him and angry towards him when he's not there to pitch in. And on top of it all dealing with the terrible twos... uggghhh!
I feel like I've lost myself in the cycle of just doing everything day in day out and never having time to do what I like to do or just even having time alone to myself.
Now, lets add the pressure of making ends meet and stressing about our financial situation.
I'm sure these are just normal things that every couple goes through and like always we work through it and it all works out but for the time being I am just having a hard time seeing the light at the end of the tunnel.
Dont get me wrong, I love my hubby dearly and couldnt imagine life without him.
Interestingly enough
Helen over at I'm living proof that God has a sense of humor shared with everyone a new book called Make Love Not Scrapbooks, By Jen who has a blog called Jen's Love Lessons.
Sounds like a good investment.