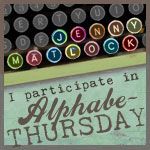 Victory.... just a little one, but its still a victory or a small step in the right direction.

After a call from our sitter that our son had been acting out and wasnt himself, I sat down and talked with her. We talked about how things have been stressful around the house and a bit tense and maybe he had picked up on something going on. Out of the blue he started asking, "Mom are you happy?" which is completely strange for a 2 yr old to be asking.
I sat down with my hubby and we had a talk.
I told him how I was feeling.
Things have just gone too far and if its affecting my son, we have to do what it takes to change.
And much to my surprized, he was listening.
On our way home yesterday evening, he turns to me and says, "Hun, when we get home, go take a bath with the boy and I'll cook dinner"
(granted it was just taco meat that needed to be cooked, I was more than thrilled with his offer)
As long as they are steps in the right direction.
Oh and just to end the week... I got two great news....
1. I was featured over at A Glimpse Inside
Alison has a great blog go check it out.
2. I won a beautiful painting done by a fellow local gal Lindsay over at from the aisle to aloha!
Her blog is super cute and fun and so is her etsy shop!
Here's to a fresh start with a positive attitude.