YES! Un-freaking-believable!
I'm linking up to a new party called Alphabe-Thursday's
(yes I know its Friday!)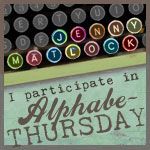 and I cant forget about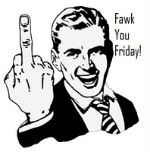 (FYF for coming to quickly!)
Is it really September already!?!?
Where is this year going?
I went into Walmart the other day and they had their Halloween stuff out, way to put the pressure on guys, thanks.
I swear as soon as Labor Day hits, all I see are Fall and Halloween decorations and crafts, thanks, thanks for rubbing it in!
Now I'm really starting to have anxiety about Christmas, as if I didnt have enought on my plate.
Also, are you serious people??
This week really flew by on me.
We had a lot going on this week but we did get a lot accomplished, speaking of which one more thing to say Fawk you too....
If you read my blog you've hear me rant a few time or so about our mortgage and house, but that's another story.
Hope you all have a great weekend!