Time for another Hoo are you?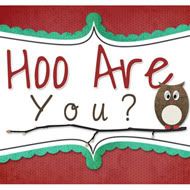 Come join in the fun of getting to know eachother!
Here are this weeks questions:
1. Are you married/in a relationship/single? For how long?
I am married to my best friend. We met while I was in high school and became friends. We started seeing eachother my first year in college and 14 years later here we are. We've been married for 10 years now.
2. What do you do for a living? Do you enjoy it?
I work for a demolition company. It's a small company but well established. I am the only one in the office so I do pretty much everything but dont have a title so when people ask me what my title is I like to say 'Supreme Being' LOL.
I enjoy what I do for the most part, I wish I could get out of the office more sometimes and see what the guys do so I understand what they talk about better and who doesnt like demolition?!
3. In what state do you live? Where were you born and raised?
I live in Hawaii on the island of Kauai. I was born here and lived here my entire life.
4. Do you have children? If so, how many? If not, do you want them?
I have a 23 month old son that will be 2 this month! Oh my goodness where has the time gone? My baby is growing up soooo fast. We would like one more but financially I dont think we can afford it right now.
5. Who is your favorite blogger to follow and why?
There is no way that I can pick just one!!! Go check out all the blogs I follow.