It's time for another week of Hoo are you?
Ready to get to know more about me?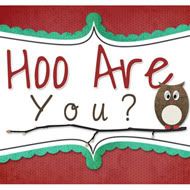 1. Where do you usually have your thermostat set at in the winter?
thermostat? whats a thermostat? just kidding... I know what it is but we dont have one, dont be jealous
2. What room do you tend to put off cleaning until last?
uh, that would probably be my own room or my closet. We throw everything in there to hide our mess
3. Do you like to clean with music on or off?
Love having the music on, its motivating and makes it go by so fast!
4. When do you take time to blog?
I do it right before bed. Its the only time theres quiet in my house.
5. How much time do you spend looking at other blogs a week?
According to my hubs, too much. The more time I spend looking at blogs the more ideas I get and he just rolls his eyes when I add another project to the growing to do list.
Alright now go head on over and see what the others are saying!