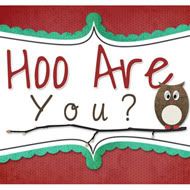 It's a Mother's Day edition of Hoo are you...
1. Are you a mom and if so how many kids do you have?
Yes, I'm a mom to a terrible two year old boy going on 13.
(and a 34 yr old going on 2)
2. List 3 qualities that you love about your mom.
Gosh, for those that know me, know that I have a difficult relationship with my mom. All that we've been through, we're probably at the best our relationship has ever been.
I think my mom has a great heart and she always means well. She doesnt have the best execution but she does want the best for the ones she loves.
3. What is your fav thing your mother cooks.
This one makes me laugh because growing up she never cooked and if she did... well lets just say that she would burn food, never cook. But I guess when she got older she learned how to cook.
She makes a pretty good fried chicken, not better than my grandma, no one makes better than my grandma but her's is pretty good. She makes good creative pastas too.
4. What do you love about being a mom?
Wow, how do you describe this one? I love the little human being that thinks the world of you, thinks the world is crashing when you scold them and thinks you saved the world when you hug and kiss them. The love is undescribible. Not to mention the headaches as well! LOL
5. What are your plans for Mother's Day?
I dont have any plans for mothers day. I would love to have brunch but I dont want to go out to a restaurant. Maybe spend a relaxing day with my loves at the beach.
Hmmm... or maybe a pedicure, yea thats sounds good