I've got two posts coming at ya today.. got another project done as well, but I have to save something for tomorrow!
So lets start with our weekly...
Hoo Are you?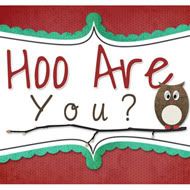 Here are this week's questions!
1. What is your favorite thing cooked on the bbq?
Oh boy, what don't I like cooked on the bbq? We grill everything over here. Atleast once a week that grill is hot and were cooking something up. I love a good rib eye and potatoes and some corn on the cob. A hot dog should always be cooked on the grill, theres just no other way to have it!
2. How do you celebrate Memorial Day?
I never made plans before since my hubby would go to either Maui or Oahu for races but since he doesnt race anymore we have the long weekend together... NOT. Now he works in the tourism industry so he doesnt have the long weekend. We are planning on packing up the car and driving to the North Shore this year and packing a picnic lunch and just hanging out for the day. Its been almost 3 years since we drove out to the North Shore.
3. Do you like your handwriting?
not really but I've been told its really neat like a teachers
4. Do you still have your tonsils?
yup
5. Do you unite your shoes when you take them off?
Well I hardly ever wear shoes since I thankfully live in Hawaii and can wear SLIPPERS! yay!
But when I do wear shoes no, I dont untie them