I took a little break from blogging to just well catch up with life.
Work has been hecktic and the hubs has been gone for a fishing tournament.
And back with Hoo are you #41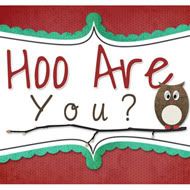 Here are this week's questions...
1. What type of diamond cut do you like?
Ok, honestly... I have no clue what the different cuts are.
I don't even have a diamond ring, seriouslly!
I think if I would pick one out now I might pick a square. And then I just googled what they mean and now I find out it has nothing to do with the shape... gosh what kind of girl am I?!?
2. If you are married when is your anniversary. if not what month
would you like to be married in?
I was married in September
3. What were or would you like your wedding colors to be?
My colors were black and gold... yes a black wedding! hahaha
4. How many bridesmaids did or would you have at your wedding?
I had 3, my bf from preschool, my bf from highschool and my sister
5. How long have you been married?
Wow this year we will be celebrating our 11th anniversary!