A Bowl Full of Lemon's has started a 21 day challenge to get yourself organized.
How perfect is this? Just what I need to start of my
goals
for my new year.
It's already day #5 but Im game to jump right in and join everyone in the organizing fun.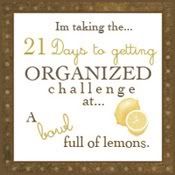 Day #5 is under the kitchen sink. I never thought much about under my sink, I always thought it was... eh.. ok.
Its not overflowing and its not horrendous but once I took everything out I realized all the crap I had under there.
WOW, now that it was all clean and empty I really wanted to put some pretty contact paper and maybe paint it up a bit, but NO this is just to get cleaned and organized and I promised myself to make it FREE.
I really would have loved some new baskets or those racks you hang on the inside of the doors, maybe another day. Come to think of it, I should put that on my list of to dos. That way I can put all my plastic wrap, foil and ziplock bags there and I can free up a cabinet drawer for something else.
So after I gave it a quick vacuum and wiped it down, I used some plastic containers that I already had on hand to organize my cleaning supplies
Seriouslly didnt know I had that many opened and half used packages of sponges. I don't think I'll be buying sponges any time soon.
Ok so I had an almost empty soap dispenser and an almost empty bottle of soap, time to filler up and throw out the huge bottle.
Kmart had those grey caddies on sale for 99 cents. I bought some thinking I could put togther a great gift one day, well today it's my gift.
I also noticed cleaning up a bit I had a lot of extra room under there.
I threw out a bunch of those empty cans we use to dump oil in so we don't dump it down the drain and I had tons of room. I put my kitchen trash bags under there and there was still room! So I put some of my extra boxes of ziplock bags and plastic wrap.
Not wanting to get too carried away and fill up my cabinet with junk again,I stopped there. Which was good enough for me to clear out enough room in my pantry to store my new glass caraffe. yay!